One reason I am passionate about travel is that you get to, temporarily, live in a foreign city and culture. To fully experience a location and live as the locals do, I often prefer to stay in an Airbnb. However, vacation rentals come at the expense of hotel conveniences and amenities — and sometimes these are too difficult to give up.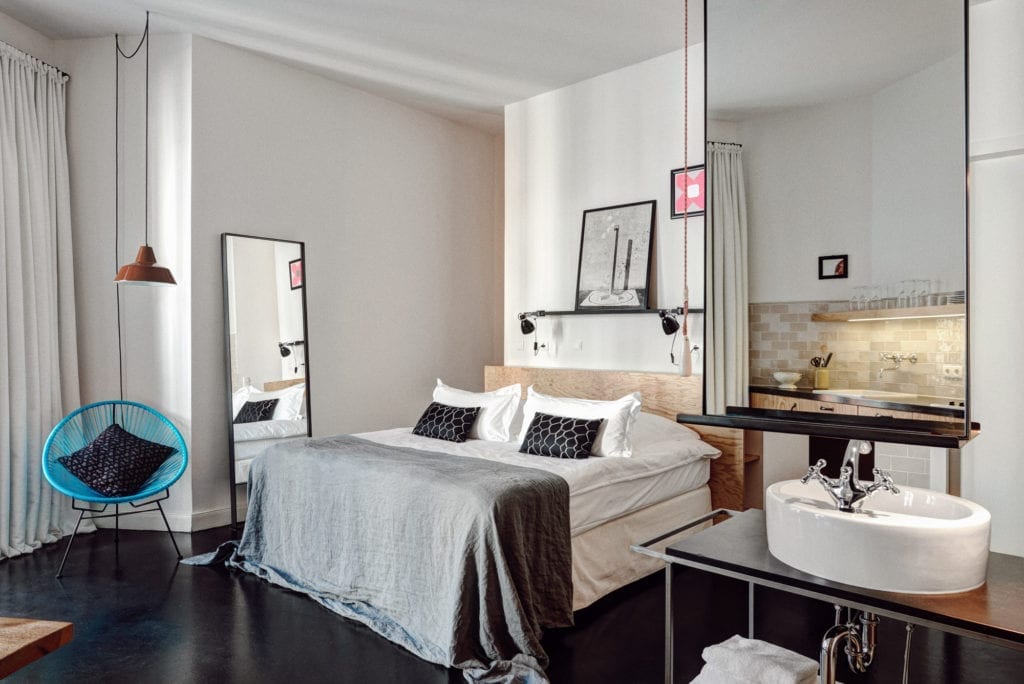 When I discovered the Gorki Apartments in Berlin, I could not resist booking accommodations that combined local lifestyle with hotel amenities.
Gorki Apartments, despite the name, is a boutique luxury hotel located in Berlin's uber-trendy and central Mitte (literally translated to "middle") neighborhood, on the border of Rosenthaler Platz, and near Alexanderplatz. While Mitte is Berlin's hipster district, "The Gorki" is completely unpretentious. The hotel is beautifully designed and consists of 36 fully-appointed apartments and penthouses which allow you to experience Berlin like a local.
The historic Gorki Apartments at Weinsbergsweg 25 was constructed in the early 1900s and miraculously survived bombings that decimated Berlin during WWII. Throughout its history, The Gorki has hosted fascinating characters. It was especially popular with actors during the Weimar Republic and Golden Twenties. The building fell into disrepair after the Berlin Wall divided the city and separated East and West Germany, in 1961. Nearly fifty years later, the Gorki was purchased and restored to its former glory by its current owners, in partnership with Fuchshuber & Partners architecture firm, German architects Sandra Pauquet and Kim Wang, and interior designer Isabelle Baudry.
At The Gorki, I stayed in Categorki 3D. The rear-facing Categorki 3D apartments are outfitted with a kitchen, modern raw wood accents throughout, and a luxurious clawfoot bathtub in the center of the room. Having an in-room kitchen allowed me the flexibility to make my own breakfast after picking up local ingredients at a corner market.
The highlight of my stay at The Gorki was, without a doubt, the bathtub. I topped up the Victorian-style tub multiple times during my stay for a soak with a crisp glass of German Gewurztraminer white wine.
In addition to these well-appointed apartment features, Gorki Apartments offers thoughtful hospitality amenities, including a full-service concierge and housekeeping staff.
Gorki Apartments' location on the funky Weinsbergsweg street in Mitte Berlin is ideal. Downstairs is the delicious Gorki Park café, which serves standard Russian fare and five types of breakfast. Across, up, and down the street are men's boutiques which carry a variety of international and local German clothing brands. Be sure to check out Rotation, Superconscious Store, and the s.wert design boutique. I also fell in love with Curry Mitte's currywurst, Berlin's signature wurst, just around the corner from The Gorki.
The Gorki is a convenient two-minute walk to the Rosenthaler Platz U-Bahn Station, which gets you to Alexanderplatz in minutes, and puts the rest of Berlin at your fingertips.
---
Gorki Apartments | Weinbergsweg 25 | Berlin
Book a room at Gorki Apartments on Booking.com
---
Acknowledgments: Photography by Mr. Frederik Sens