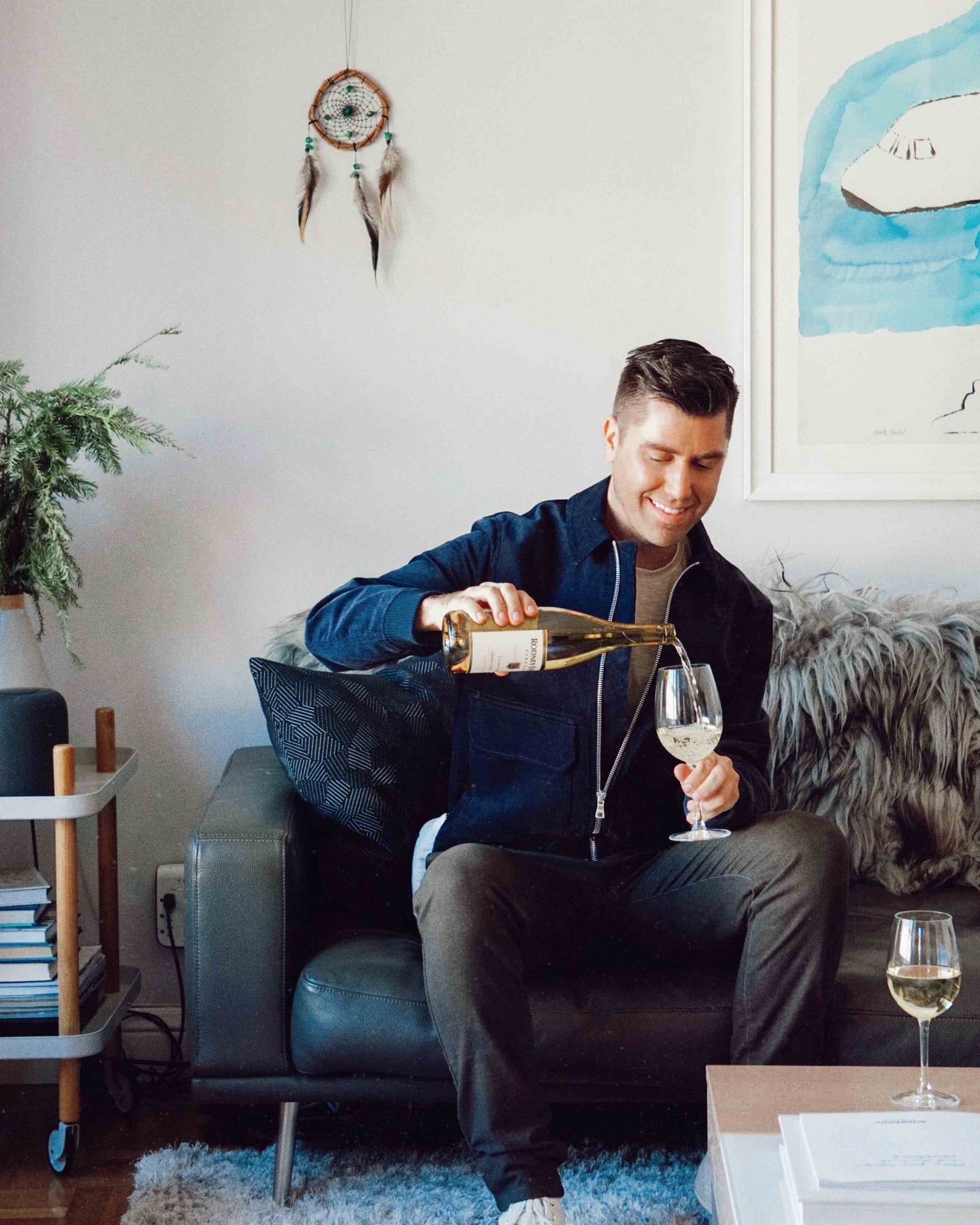 While Santa Claus has been out of the picture for some time now, there is still one man who keeps the magic of Christmas alive for me: MR PORTER. Yes, MR PORTER, the online men's fashion retailer and brother to Net-a-Porter.
Twice a year MR PORTER comes to town with steep discounts from my favorite men's clothing brands — from Acne Studios to Ermenegildo Zegna. Twice a year I lose my mind and raid the MR PORTER sale as if I will never shop again. So maybe it's a little less Christmas magic and a little more Black Friday manic.
Shop my look (above):
Here are my favorite finds from the 2018/2019 Mr Porter Winter Sale. Pour a glass of wine and shop to your heart's content.
This navy blue fine-wale cotton-corduroy "blouson" (aka: Harrington jacket, worn above) from Mr Porter's Mr P. line is comfortable, easy to layer, and will be a go-to for me through the Spring.
Too often I find myself taking regretted sale purchases to sell at Crossroads. So, when it comes to sales I try to stick to staples I would pay full price for. Aspesi's precisely tailored trousers inspired by classic Italian workwear are far out of my league at their regular pricing. So these discounted classics were no-brainers for me. I picked up three pairs of smart Aspesi trousers in black, herringbone tobacco (worn above), and midnight-blue.
Of course I needed a pair of white jeans to wear with the navy blue Mr P. Harrington. I had been eyeing Acne Studios' Blå Konst denim line for sometime, so these were a great find.
When it comes to bedtime attire there are a few camps: nothing at all, underwear, sweats, athleisure, old ratty t-shirts, and pyjamas. I fall in the latter. I love matching pyjama sets. It's probably an OCD thing. But even more than wearing pyjamas to bed, I love wearing the shirts out of the house. And if you're going to wear pyjama shirts in public, you may as well pick the funkiest prints you can find! This set of Desmond & Dempsey Sansido Tiger pyjamas were practically shouting my name.
Last year I sold a worn-out Breton t-shirt at Crossroads and have been on the lookout ever since. The classic blue and white striped design is a wardrobe staple, so I was thrilled to find this updated Breton rollneck t-shirt from Mr P. on sale.
T-shirts are the foundation of so many outfits, which is why I like to keep a small collection of comfortable t-shirts. Mr P.'s cotton-jersey crew neck t-shirts are soft, simple, well-cut, and ideal for wearing on their own or layered. If I could, I would buy 10 in every color.
Nope, Neat Nutrition's Lean Protein wasn't on sale, and it's (obviously) not apparel. This one's to support my New Year's resolutions. ?
The Mr Porter Sale begins on December 26th and typically runs for 2–3 weeks.